A Church Closed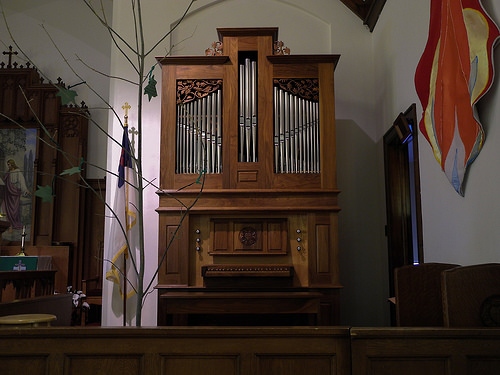 by Steve Panizza
This is a photo of the first cabinet organ I built as an independent builder. The instrument combines pipes from an older organ along with new material. The stop list is listed below. The instrument was a successful attempt to interpret the design aspects of a small European country parish organ in a one-manual mechanical action pipe organ with pull-down pedal. A more complete description of the organ is found here. The church where the instrument is located closed this past summer. As pipe organs become available due to church closings, they are often understandably repurposed into something new to fit the needs and space of their new owners using core material from the original instrument. This results in a lower project cost. A new cabinet organ based on this instrument could find its way into another church, especially one with a contemporary music focus, or perhaps a small college recital venue or art gallery. An organ like this does not dominate, but rather contributes where most effective either alone or in combination with other instruments or voices.
Hohlpfeife 8' (old pipes, divided at tonal f)
Viol 8' (old pipes from tonal f)
Flaut 4' (old pipes, open wood)
Octav 2' (new pipes)
Quint 1 1/3' (new pipes)
The organ's rich history has produced an enormous evolution of different styles and technologies along the way. Arguments arise among different camps who believe strongly in one type of design interpretation over another. I think the best argument for my work lies here in a description of former work, and in the three short stories linked to below that form a professional autobiography. Descriptions that I hope will help a potential client develop their own ideas, do better research, start some constructive dialog, and make an informed decision relevant to their needs.
Contact Steve for more information.